IntelliCredit™ Portal
Stay on top of emerging risk in real time.
Simply and efficiently manage your credit risk profile.
As the U.S. moves deeper into the late stages of the current credit cycle, institutions need more tools, analysis and strategies to detect emerging credit risk and stresses early, before serious deterioration and losses occur.
The IntelliCredit™ Portal makes it efficient and affordable for institutions of all sizes to proactively manage fluctuating credit risk, fuel game-changing mandatory loan reviews and curtail credit losses.
Now is the time for vigilance! And given the immediate credit impact of the coronavirus emergency, inventorying emerging portfolio risks, such as in the broadly impacted services industries, will be an investment in that vigilance.
Learn more in our upcoming webinar.
The IntelliCredit Portal
Automate a more informed view of your institution's credit health.
Portfolio Analyzer
Go deeper with your loan-level credit analysis. Script your own credit risk profile - before the regulators do it for you!
Web-based solution designed and delivered with practical credit expertise
Instant analysis and push-button reports of your institution's aggregate credit risk, based on both public and institution-specific data
Includes the COVID-19 Loan Tracker to help you track, manage and report these loans, which are a hotbed for future credit issues and losses
Ties transactional credit risk to aggregate portfolio risk—and provides early warning measures within both
Enhances QwickRate's QwickAnalytics® Credit Stress Test and CECLSolver™ with bottom-up, loan level data
Shifts credit risk management paradigm from chronicling the past to probing the future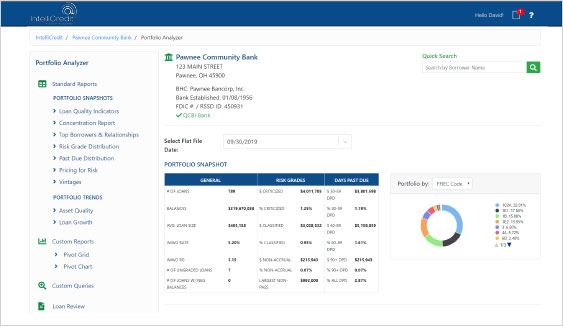 COVID-19 Loan Tracker: meet regulatory requirements and monitor risk.
Smart Loan Review
The industry's most innovative—and efficient—loan review process.
Automated sample selector considers embedded risk, rather than individual loans
Charts and reports at the push of a button
Integrates additional loan-level data gleaned from loan review within the Portfolio Analyzer
Tracks cited documentation, credit, and policy exceptions in a live, web-based application that allows exception clearing in real time - without the traditional hassle
Monitors concentrations, vintages, pricing, and risk grade migrations to keep your institution ahead of regulatory forces
Use for both external and internal loan review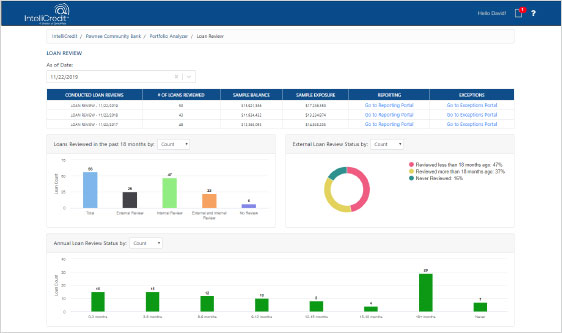 ---
Loss Forecasting
Automated, statistical analyses that compute probabilities of default (PDs), losses given default (LGDs) and risk grade migrations
Informs portfolio due diligences, discounted credit marks, stress tests and loan loss provisioning (per current and CECL standards)
IntelliCredit: Built by credit specialists
Unlike so many risk-focused fintech tools, IntelliCredit was created by true credit specialists whose decades of expertise in managing and analyzing credit risk inform every data point, chart and calculation. Meet our team
Transforming the way credit risk is managed.
Benefit from technology and expertise usually accessible only to the largest organizations. Uniquely, IntelliCredit delivers transformative tools that feature:
Blended data – Public and institution-specific loan portfolio data provide a rare view of both transactional and aggregate risk for next generation loan reviews and broader portfolio analysis.
Built by credit specialists – Deep credit expertise lies behind every data point, chart and calculation, producing analysis and insights that reveal what credit risk specialists would want and need to see.
A strategic transformation – With emerging credit issues on the horizon, now is the time for a strategic alternative decades-old methods of managing credit risk. IntelliCredit leads the way with comprehensive, affordable solutions that enable Institutions of all sizes to early identify and proactively manage portfolio risk – tactics proven to reduce losses.
Get a tour
Just fill out this form.