COVID-19
Loan Tracker
Online tool helps you track, manage and report potential credit issues and losses.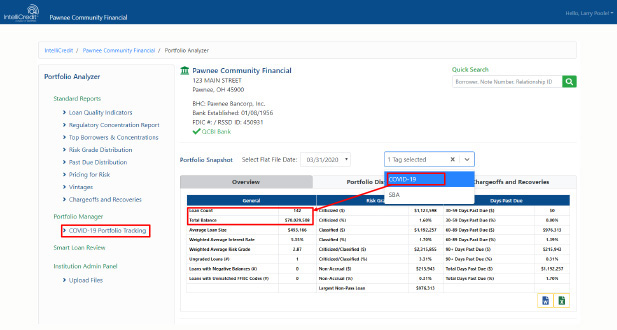 While Interagency Guidance provides temporary accounting relief for COVID-19 affected loans, these loans remain a hotbed for future, potential credit issues and losses.
Don't make the mistake of handling these manually in spreadsheets.
Regulatory reporting on these loans will be REQUIRED. Financial institutions must be vigilant in tracking COVID-19-affected loans quantitatively, but also managing these loans qualitatively.
The IntelliCredit COVID-19 Loan Tracker makes tracking, managing and reporting simple and easy.
View analysis and trends of all loans at the portfolio level
Create and track portfolio subsegments (i.e. COVID-19 loans, PPP loans, SBA loans, etc.)
Drill down on any loan
Enter loan-level comments
Upload endless documents
Multiple users can view, update and make changes in the application at the same time (unlike spreadsheets)
Rely on our expertise. We are former lenders and credit experts at our core – staying on top of regulatory requirements and keeping you (and the COVID-19 Loan Tracker) updated.
It's easy to get started. We work with all core systems and do the heavy lifting for you.
Fill out the form, and we'll schedule a quick demo.
Get a demo of the
COVID-19 Tracker.
All fields required.
Thank you for your request!
One of our specialists will be in touch soon to assist you.